Memorial Day is an important day for Americans to take time to remember the sacrifices that bought our freedom by honoring the men and women who died while serving in the U.S. military. It is a great way to recognize and commemorate the ones that gave their lives and careers to defending our great nation. Before we get rolling, we want to mention an applicable, recent addition to the ETF universe: Pacer Military Times Best Employers ETF (VETS); an ETF that invests in companies whose employment policies are friendly to veterans of the U.S. military.
In the ETF sphere, we want to ride this wave of reminiscence to look back at the ETF closures in the past decade. There has been an increasing amount of closures year to year, but also paired with increase in ETF launches. In 2018 YTD, we have seen the Launch-to-Close ratio drop slightly (2.1 to 1.73), which is not a surprise because the quality over quantity of funds is increasing in magnitude. Here is a chart of the total ETF closures in the past 10 years.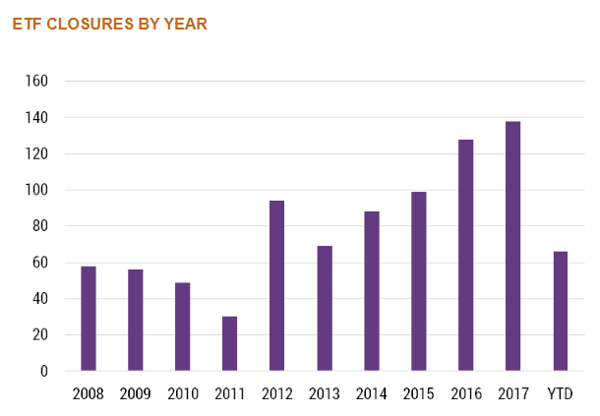 Looking back in history is very important in all walks of life. As the saying goes, "History repeats itself." Now, we want to look back on some of the ETF closures that lasted and others that were resurrected.
The Healthshares Cancer ETF (HHK) — closed in 2008
HHK was focused on subsectors of the healthcare industry, and we highlight it because it has been reborn by an ETF specialist, Brad Loncar, an independent biotech investor and analyst that manages a biotech-focused family office. HHK was part of 19 Healthcare focused sub-sector funds and was one of the first ETFs ever to close. The new ETF that launched in 2015 is called Loncar Cancer Immunotherapy ETF (CNCR). It provides exposure to a quickly growing segment of the biotechnology space. The index it reflects tracks companies that are developing new classes of therapies like checkpoint inhibitors, next generation vaccines, and chimeric antigen receptor (CAR) technologies. CNCR currently has about $67 Million in AUM.
MacroShares Down Oil $100 (DOY) and MacroShares Up Oil $100 (UOY) – closed in 2009
These functioned like all MacroShares products in that they teeter-tottered with each other tracking the price of oil. They didn't hold the underlying asset, oil, but rather treasuries. We bring these ETFs to light because the same idea was tried again in 2016 with AccuShares S&P GSCI Crude Oil Excess Return Down Shares (OILD) and Up Shares (OILU), but were closed within a year after launch! Question is: Will people learn from these results, or will it be tried a third time?
Claymore/Delta Global Shipping Index ETF (SEA) – closed in 2010
This fund is unique because it closed and reopened. Originally, SEA had fallen 70% within a couple of months of its launch during the slumping global economy. The main holdings got crushed in the recession and never really came back. Proceeding that, Claymore became Guggenheim, and in July 2011, the company changed the index underlying the shipping fund from Delta Global Shipping Index to the Dow Jones Global Shipping Index. Since the change, the Guggenheim Shipping ETF has been far less volatile, and the companies populating the underlying index are more mature and more stable. Though performance has been less than ideal, it does provide an attractive yield of 5.3%.

Bear Stearns Current Yield (YYY) – closed in 2008
This is an example of an ETF that closed and reopened with the same ticker, but different everything else. The first YYY could have been the first actively managed fund to thrive, but due to several problems, it never really took off and closed several months later in 2008. The YYY we all know, YieldShares High Income ETF, opened in 2012 with the same ticker, but with a different company, index, and vision for the ETF. YYY holds a combination of 30 closed ends funds and yields 8.5%. Some tickers are just too good to die it seems.
Bringing it all back to our Memorial Day theme, remember to thank those who served to keep our country safe and prosperous. We hope this trip down ETF memory lane reminds you that though the ETF tree needs to be pruned to cut off dead branches, it is continuing to grow taller and healthier. The TETF.index illustrates this growth of the current and future potential of the ETF industry.