42 ETFs Hit the Road
This week, we geeked out when our nickname went mainstream as @scarletfu dubbed @Ericbalchunas their "Bloomberg ETF Nerd" on ETFIQ. And we get extra nerdy by paying homage to the number 42, as in the number of ETFs Invesco is shutting down and The Hitchhiker's Guide to the Galaxy.
The number 42 is, in The Hitchhiker's Guide to the Galaxy by Douglas Adams, the "Answer to the Ultimate Question of Life, the Universe, and Everything", calculated by an enormous supercomputer named Deep Thought over a period of 7.5 million years.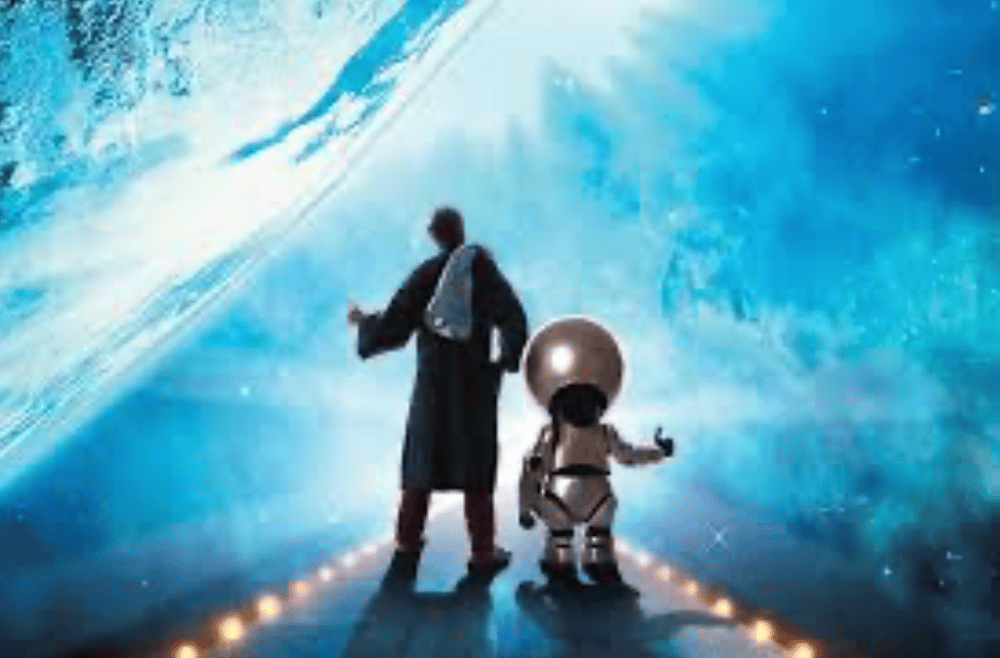 Ideas Likely to Hitch a Ride with a New Sponsor
As financial advisors and investors prepare for 2020, a small number of people may be surprised to read that Invesco will be closing 42 ETFs in an effort to "rationalize" its vast ETF product line up. See press release for details. In our opinion, the news of 42 ETFs closing does not signal any meaningful disruption to our industry. It certainly is not answering any "ultimate questions," but we will likely see many of these ideas hitchhiking to find a ride from a new sponsor.
Context is Key
To put the closures announcement into context – the AUM loss is about $1 billion, but the largest announced closure is the Invesco Insider Sentiment ETF (NFO) at about $79 million, The affect therefore will not be widely felt by investors. However, since closures are a KPI that we monitor closely, it is necessary to highlight that even after this happens on February 14, 2020, Invesco will remain the 4th largest ETF issuer in terms of AUM, but remain the second largest ETF issuer in terms of the number of ETF choices. iShares has 356 ETFs and after Invesco closes the 42 funds, it will have about 221 ETFs left. This is close to the 216 combined totals for Vanguard (80) and State Street (136). Most importantly, we are optimistic that the rationalization will lead to more innovation. No one needs to look at stale cereal boxes.
Market Participants Chose the Better Index Methodology
The performance of certain fund closures may have been strong, but discerning alpha seeking investors appear to have identified the correct alpha generating choice. For example, for Sector Rotation First Trust Sector rotation (FV) handily outperformed the Invesco (DWTR) and the iShares Momentum (MTUM) squashed the Invesco Nasdaq Momentum ETF (DWAQ). FV has $2.4 billion in AUM and MTUM has $9.3 billion.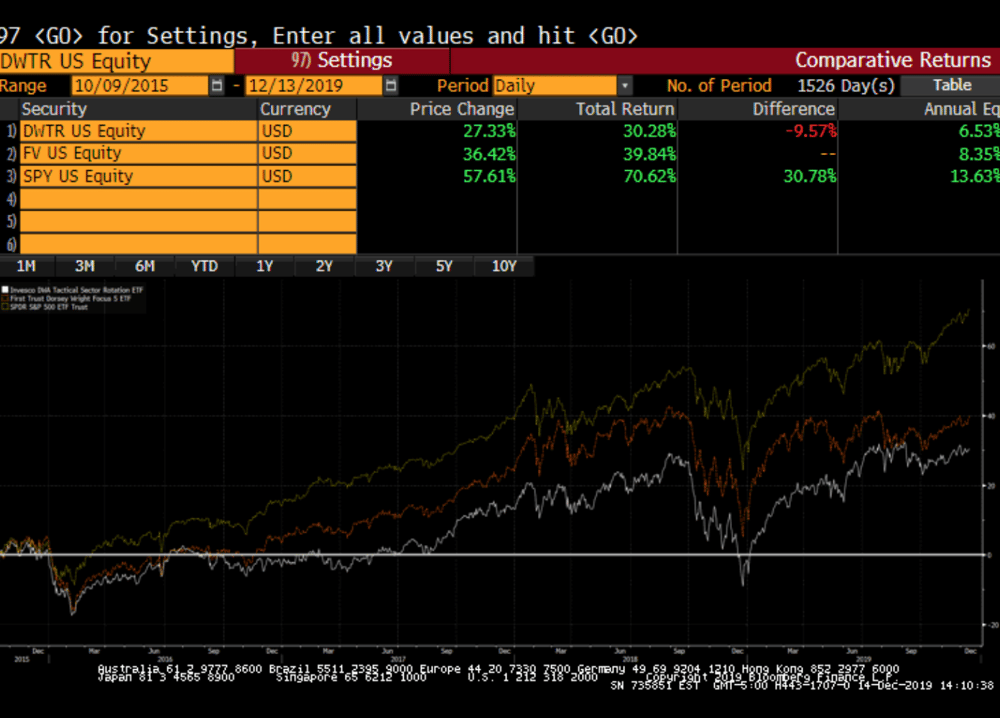 The Invesco Insider Sentiment ETF (NFO) vs. the Direxion All Cap Insider Sentiment (KNOW) may be the exception to the thesis that investors favored the better methodology. See chart below comparing the two indexes. NQBUY is the NFO Index and SBRQAMTR is the KNOW index. Both indexes were created by Sabrient and the NFO ETF launch came in 2006 and in 2011 as a Guggenheim ETF it had AUM of over $223 million. Following such success, Direxion launched KNOW on December 8, 2011. Today KNOW has $97 million in AUM.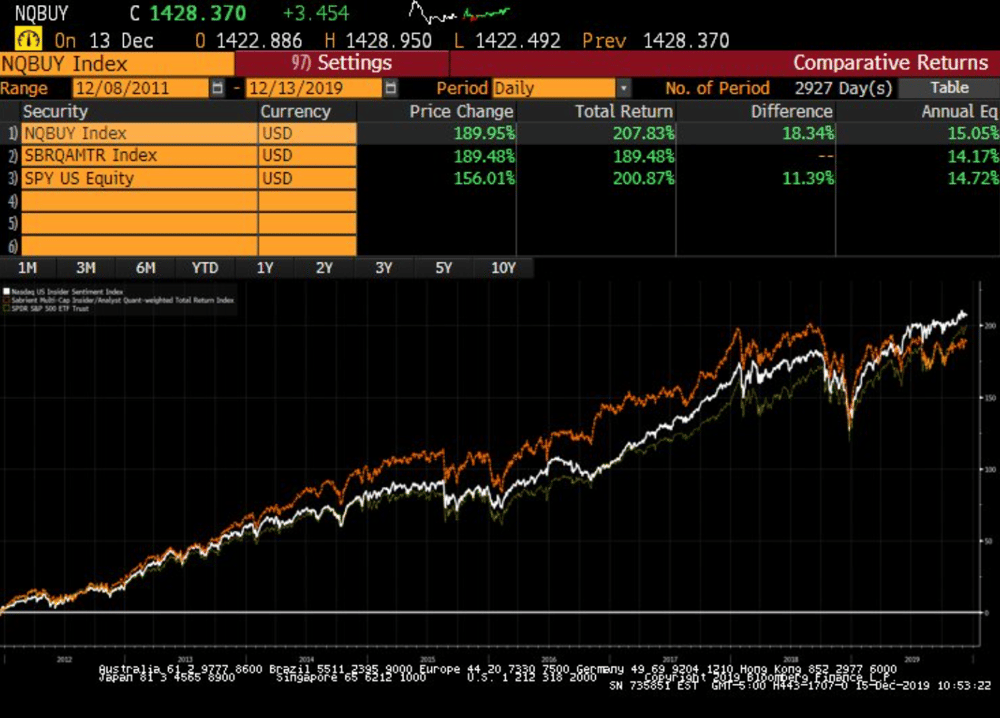 ETF Lazarus Dies Again
This is the second time that the Shipping ETF (SEA) has closed, and it will be missed. ETF Nerds will remember the proxy contest after Claymore sold to Guggenehim; at the time SEA was successful with about $152 million in AUM. A door is also closing on ETF history as the first generation Currency Shares Trusts go away. The Swedish (FXS) was launched in 2006 followed by FXCH – China Renminbi (2011) and FXSG -Singapore (2013).
There are 37 ways to play straight currency using ETFs and AUM is about $1.6 billion. FXE (2005), FXA (2006) and FXB (2006) still survive the backdrop for history. Invesco also has currency ETFs that are packed as broad indexes to participate in a bull and bear dollar trend, aka Invesco Bull Dollar (UUP) or Invesco Down/Bearish Dollar (UDN). Separately, the Invesco BLDR funds (ADRD/ADRU) will be closing after 17 years. As first-generation ETFs, these funds helped pave the way for the ETF evolution, but innovation requires more shelf space. Invesco made a similar announcement on about 20 funds last year around this time. In the first Quarter of 2020, the open-close ratio, may look ugly temporarily. However, the future looks bright to us as we encourage a more streamlined Invesco platform. Don't forget your towel, the ETF journey will continue.
Click here for information on the Index following the ETF industry